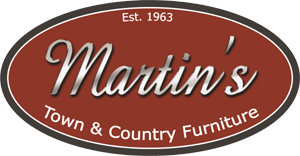 ---
In 1947, Walter R. Martin opened a furniture and appliance store in Molalla, Oregon under the name "Martin's Furniture and Appliance Co.". He enjoyed his business but enjoyed his customers and the friendships that he made even more. For several years when Walt and his family: wife Jean, sons Robert, James and Neil and daughter Patti were living in Canby, he made the commute from home to work and back, developing a fondness for a piece of property located at the intersection of S. Macksburg Rd. and Highway 170, also known as the Canby-Marquam Road. After much thought, Walt decided to buy the land, initially over fifty acres, to build a new furniture store. Walt's brother Ernie Martin, who had been at the Molalla store with Walt, bought the Molalla store which became known as Ernie's Home Furnishings and in October of 1963, Martin's Town & Country Furniture was born.

Walter's son Robert had been living with Maxine, his wife of three years, in Klamath Falls and working for Sears when his father asked him in 1965 if he would come and be a part of the furniture store, which he did. Walt and Robert (Bob) worked together for eight years until Walt's son Neil graduated from college and came out to join his father and brother in business in 1973.


Around the same time that Neil joined the store, Franz "Red" Flowers was hired as the head delivery man, in charge of deliveries, repairs and countless odds and ends. Walt gradually began to retire from full time work at the store but always enjoyed stopping out to chat with old and new customers about every topic under the sun. He enjoyed his time in retirement, spending time with family and friends, travelling, supporting local charities and community organizations and being involved with church.

From the mid 1970's through the 1990's Bob and Neil operated the store, Red ran the back room and deliveries along with dozens of part time helpers over the years, and Walt still maintained some ownership in the business, along with his sons. Walter passed away, a much beloved husband, father, grandfather and friend, in March of 1999.


In February of 2000, Red retired which left a full time position in need of filling. At this point, Bob's son, Neil Michael, came out to join the family business. Bob enjoyed a gradual retirement during the mid-2000's and Neil G. continued on until the end of 2011.

Patti's son Joel Hall had earlier expressed an interest to join the business if an appropriate situation arose, so upon Neil G. announcing his retirement Neil M. and Joel developed a plan to get Joel involved while Neil G. was still working so that the complete transition from the second generation to the third would be a smooth one.